How To Choose An Appropriate Institute For Pursuing Fashion Degree?
Fashion design is one of the most popular courses among the younger generation, and formal education is a prerequisite if you wish to pursue it seriously. Enrolling in a formal fashion design school will sharpen your talents and prepare you for the real-time industry. Therefore pursuing a fashion degree provides several prospects as well as industry recognition. To pursue a degree and get qualified for a great career ahead, selecting the appropriate fashion designing institute is critical. Here are some parameters to weigh in before opting for one:
Reputation: It's essential to look at the institute's reputation as a provider of fashion design courses. It would help if you first looked for accreditation, which you can do by visiting the institute's website. It's critical to ensure the institute is well-known and has legitimate national or international accreditation. Before enrolling, students should check out the staff, instructional methods, and project themes for fashion design since these must all exceed or be abreast with industry requirements.
Exposure: The top fashion designing college will provide you with ample exposure so that you may achieve your goals. Students must verify whether the fashion school provides worthwhile exposure while choosing a fashion academy to pursue the degree since this is a crucial feature that should not be overlooked. To help you, your institution must have strong ties with various worldwide fashion design institutes, fashion companies, merchandisers, and designers. Choosing the right fashion design school will help you advance your career in the business.
Course Structure & Curriculum: Before choosing an institution, students should look at the fashion design course syllabus, the nature of their practical and academic application, and many other factors. These factors will help you advance in your profession and ensure that you are recognised as a competent fashion designer in the future.
Placement Options: Because your future depends on it, the institute you choose should provide the most acceptable placement options. Students should check the official website to ensure that the internships and career possibilities offered by the institute are from reputable firms, brands, and designers. Besides, it is best to talk to ex and existing alumni to get a clear picture. After reviewing these facts, it will be simple for you to choose the ideal institution and then apply for admission.
Teaching Methodology: Another critical factor for students to consider while choosing the most acceptable fashion degree institute is the teaching method. Aspirants seeking a profitable future in the fashion business can benefit from updated teaching approaches. You may also attend a trial class before applying for admission to any college to understand the procedures better and gain feedback from alumni. Choose a college with the finest teaching team and student-to-teacher ratio. Smaller class size allows for a greater emphasis on instruction.
Choosing the right fashion design college will significantly impact your career. Even if you have a unique design skill, formal and fundamental fashion design education must be obtained from an appropriate source. Your design school choice will significantly impact your ability to succeed in the fashion business. It is beneficial to compare the cost structures of various universities. Taking a costly introductory fashion design degree course will not help. Alternatively, becoming overwhelmed by the college's brand and reputation might be counterproductive.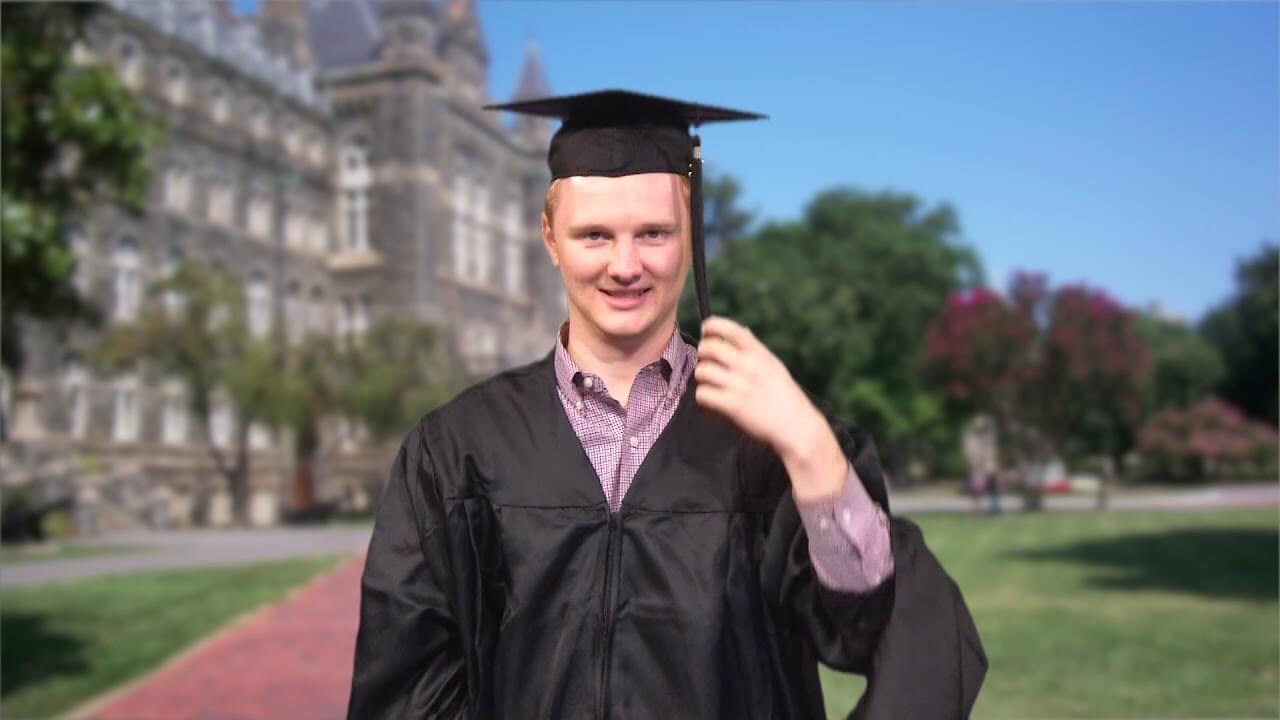 There are some things to keep in mind when wearing a graduation cap and gown. Here are some tips on how to care for your Penn State caps & gowns | Jostens:
Ironing
Whether you're a recent or long-time graduate, there are a few tips for caring for your graduation caps and gowns. First, do not wash or dry clean your gown. Rather, steam clean them to preserve their shape and appearance. Once dry, iron with a cool iron. First, when ironing your graduation cap, lay it flat without bending it. Honor societies are an excellent option for caring for graduation caps. They foster leadership skills and offer workshops and scholarships to deserving students.
To remove stubborn creases and snags, use a steamer or a spray bottle filled with water. Steaming the cap and gown will help it loosen wrinkles and remove creases. For more stubborn wrinkles, use a cool iron and a press cloth. To remove dirt and stains, use a steamer or steam cleaning option. If the cap and gown are made of velvet, you can steam them instead.
Tassel placement
When placing a tassel on a graduation cap and gown, it is best to follow tradition. Graduates of undergraduate or high school degrees wear tassels on their left. After receiving their diploma, however, they should switch to their left side. Schools often direct graduates to wear their tassels on the left since photographers typically take pictures from the right. After all, they want to make sure their faces are visible.
Graduate students should hang their tassel on the left side of their graduation caps and gowns, while undergraduates should leave it on the right. The tassel on graduation caps and gowns should be secured to a button on the mortarboard. Graduation ceremonies are held at a ceremony held at a church or other location. Therefore, graduates should maintain the placement of the tassel on their left side during commencement.
Cleaning
First, you must know how to clean your graduation cap and gown properly. Depending on the fabric, the accessories, and the type of gown, different cleaning methods are required for each type of graduation attire. If this is the first time you've cleaned your gown, you should dry clean it. Also, if you've added any decorations, like lace, you should dry clean these items. Afterward, hang the graduation dress to dry.
For most types of gowns and caps, dry cleaning should be used to extend the life of the fabric. This method removes oxidizing agents, oils, and other substances that can damage the dress. Dry cleaning is recommended for gowns and caps made of satin. It is best to use a delicate cycle when washing gowns and caps made of this material. Dry cleaning is also a good option for stoles, which need special care.
Care of graduation regalia
Graduation gowns and caps should be stored carefully. Store them in plastic containers with clip-on closures. They should be stored separately from other clothes so air can circulate and the fabric will remain fresh. Also, hang them to dry. Use a low-heat iron to remove creases and wrinkles. Use a towel between the gown and iron to prevent mildew and insects from settling on them.
After obtaining the graduation regalia, it's time to take care of them. The regalia arrives in early May, and it is important to take good care of it. It should be hung on a hanger and not laundered or ironed. Sage's regalia is green with a black tam and gold tassel. The lining should match the school's colors, and the velvet trim should correspond to the degree.
Salesforce has become a crucial part of the day-to-day activities of many organizations. And the good thing about the Salesforce Admin is that there is a massive demand for Admin expertise in every organization. If you want to show your dedication to your organization's success and growth, earning the Salesforce Admin certification is a perfect way.
The Salesforce certification will open many doors for your career, and the Salesforce Admin career path is undoubtedly a lucrative one. Passing the Salesforce Certified Administrator Exam in as little as two weeks is possible with the right tips and tricks and strategy.
Who is a Salesforce Administrator?
The Salesforce Admin plays a vital role because he has extensive knowledge of the management and administration of the organization. Passing the Salesforce Certified Admin exam indicates that you have the foundational understanding of the Salesforce platform and its built-in features.
Salesforce Admins are responsible for day-to-day handling tasks like data transfer and ensuring that data migration runs smoothly. The Salesforce Admin's job also includes troubleshooting and resolving issues, finding reliable solutions, etc.
Since the job role of the Salesforce Admin is so extensive and involves a lot of responsibilities, organizations prefer a successful and certified candidate to be their Admin.
About the Salesforce Admin Certification Exam
Passing the Salesforce Admin certification exam is the first step if you plan to be a Salesforce Admin. It validates your capabilities and characteristics needed to maintain the Salesforce platform. The next step in the Salesforce Admin career path would be to obtain the Salesforce Certified Advanced Administrator.
To pass the Salesforce Admin certification exam, the aspirant must have a deep knowledge of the Salesforce customization and setup and the skill to handle the users and maximize the potential of the Salesforce platform. You will get 90 minutes to solve 60 multiple-choice questions. And as a prerequisite, you must know how to handle security, data, users, and the platform.
Tips to Prepare for the Salesforce Admin Certification Exam
Your initial focus should be on gaining the test-taking skills and a lot of practice for the scenario-based questions. Consider the following valuable tips to pass the Salesforce Certified Administrator Exam:-
Get some Hands-on Experience
Get some Salesforce Administrator training and work on real-time assignments and projects to understand the working of the Salesforce platform. There is no replacement for the actual work experience when learning a new skill. Therefore, working and implementing some real projects helps solve the Salesforce Admin exam questions.
Stick to the Salesforce Official Exam Guide
Keep yourself focused and stick to the concepts and topics mentioned in the Salesforce official exam guide for the Salesforce Admin certification exam. The exam guide is the perfect source to organize your preparation for the exam. The guide will help you figure out what topics you need to prepare for the certification exam and how much time.
Take Trailhead's Help
Trailmix of Trailhead is the best resource to prepare critical concepts and topics for the Salesforce Admin certification exam. Trail mixes are the long-scaled projects.
Follow the modules and lessons of Trailhead and solve questions to know where you stand.
There are some small-scale projects called Badges that you can earn by completing the modules. It is the best and most fun way of learning for the certification exam.
Enroll in an Online Training Course
If you are a beginner and want some direction to start preparing for the Salesforce Admin cert exam, enrolling in an online course can help you. Doing so will help you organize your practice and strategy. But it is crucial to choose a reliable platform. The best would be to choose a platform that provides you with study modules, mock tests, and practice exams. One such platform is saasguru. You can also get one-to-one mentoring support on the platform from industry experts.
Networking is Important
To stay connected with your fellow learners, join online communities and forums. Joining communities will also provide you a platform to ask questions and practice questions by solving doubts posted by others. You can also find a mentor in such communities. The mentor can personally guide you through your Salesforce Admin journey.
Don't forget to take Practice Exams
Do not hesitate to test your knowledge once you have completed studying the fundamental and foundational knowledge and gained some hands-on experience. Salesforce Admin Practice Exams are the best way to know your readiness and the areas you need to work more on. So, practice as many questions as possible, analyze your answers, and study accordingly.
Apart from the tips mentioned above, you can do other learning activities like attending virtual Salesforce events and other informational webinars. Doing so will help you stay updated with the latest changes and features related to the Salesforce platform, and it will be beneficial for you during the interview.
To Sum Up
It is common to be a little skeptical about something new at first. But once you have a suitable strategy for yourself, work towards your goal with a lot of practice and hard work. Earning the Salesforce Admin certification will give you exciting career opportunities. And we already know that nothing is simple. So, follow the helpful tips to pass the Salesforce Certified Administrator Exam and get your certification.
Chegg is a company that provides a large selection of study materials and a platform where students can access their textbooks and assignments from any device. The company has a massive following and is a favorite among college students.
It's easy to see why; Chegg is a great resource that has made it easy for students to access their books and assignments from any device. Students love the service, but many of them have questions about how to get free answers on their Chegg tests.
In order to get free Chegg answers, you need to follow the steps that I have described in this article. In this post, I will explain how you can get free Chegg answers step by step.
What are Chegg Answers?
The extensive question and answer board of Chegg.com features hundreds of experts waiting to provide answers to the questions of the user.
As a result, students can get instant answers to their academic queries. The website also has a separate section for students where they can ask questions to the expert community.
A dedicated team of Chegg's Academic Experts is available 24/7 to help you with any academic query. This team includes subject experts, tutors, and subject matter experts who are available to help you with your academic problems. They have been helping students for more than 20 years now.
Chegg is a one-stop solution for all your academic needs. Apart from being a comprehensive study material provider, it also offers test preparation services and academic coaching. You can use the study materials and practice tests provided by Chegg to prepare for your exams.
How to get Free Chegg Answers in 2022?
If you are finding the best sources to unblur the Chegg Answers then you are on the right page. In this post, I will share with you the best sources of Chegg Answers in 2022. So, keep reading and get the answers.
1. Use Chegg's Free Trial
If you don't want to buy the subscription then you can get Free Chegg's Answers through their Trial by utilizing Chegg Free Account. 
Where they offer you a free trial for 30 days, and after that, you can pay them to continue your membership.
You can find the answer to your question in the following link: https://www.chegg.com/answers/question/how-do-i-get-a-free-trial-of-cheggs-answers-and-how-do-i-pay-for-it-afterwards/
For students, who cannot afford their Subscription and looking for a little solution, the trial Account is best. 
2. Join Chegg's Community on Facebook
We all know the communities and their power on social media. If you want to find the Chegg's answers for free then join different communities on social media groups. Therefore, you can get all the answers to your questions from the communities.
You can find the Chegg's answers to your questions on the Chegg's social media groups. There are many groups where you can ask your questions and get the answers to your questions. The Chegg's social media groups have a lot of active members who are very helpful. So, you can get all the answers to your questions from these groups.
3. Find Groups on Reddit
We all know Reddit and the famous group feature of group. If you want to find the Chegg's answers for free then Reddit is one of the best sources.
Naturally, the site is used by millions of people around the world and they are looking for their answers on various topics.
Reddit is a place where people come to share information, ideas, and even pictures with each other. It's a great place to share your thoughts, ideas, and opinions with others.
Here, you can find the best answers to your questions. You can also get a lot of useful information from the site.
You can also share your ideas, thoughts, and feelings with others. If you have any question about Chegg, you can ask it here.
It's a good place to ask your question and get an answer from the experts.
5. Find Free Chegg Answers on Discord Servers
Discord is famous for gamers community but it can be used for educational purpose. For example, for finding the Chegg Answers.
Accordingly, you can find a lot of Chegg Answers in Discord.
If you are a student and looking for Free Chegg Answers then you can use this article.
You can get the Chegg Answers in Discord using below given steps:
Open Discord app.
Click on search bar.
Enter Chegg Answers as keyword.
Hit enter.
You will get the list of Chegg Answers in Discord.
Chegg Answers Discord