5 Key Components of a Real Network Operations Center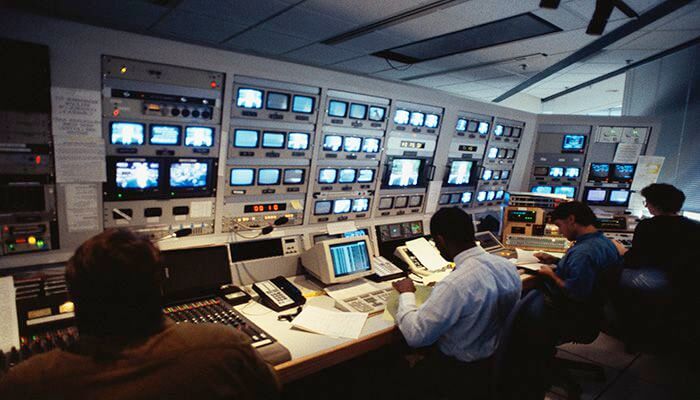 A network operations center (NOC) is a centralized location where a team manages a company's networking infrastructure, including routers, firewalls, servers, databases, and IoT devices. They support a client or organization's networks and ensure 24-7 network uptime through maintenance, troubleshooting, and meeting service level agreements.
A NOC typically doesn't interact with end users, unlike a help desk or security operations center.
Real-time Monitoring
A natural network operations center is an IT nerve center constantly on high alert to keep your company functional in a world of competition, vulnerabilities, natural calamities, and relentless cyber-attacks. It's a complex bundle of synapses closely resembling the human nervous system, always working to prevent disruptions and respond quickly to threats. The real-time monitoring component of a real network operations center is essential because it's only possible to know what's happening on your network if you're collecting data in real time. For example, unauthorized bandwidth usage or slow site loading times might be early warning signs of a breach. It's also important to understand that real-time monitoring doesn't replace your help desk; it complements it. Before committing to one, you should consider the benefits and costs of each monitoring application or service. Be sure to compare pricing, features, and the level of technical expertise and support each offer. It's crucial to find a provider that matches your specific business needs. If you have questions about a monitoring tool, contact an IT services provider to discuss your options.
Detection
Detection is the process of finding a specific signal from the background noise that surrounds it. For example, in radio communication, detection involves picking up Morse code on a receiver and understanding the signal's meaning. In the same way, IT teams must quickly determine the nature of an attack to protect their networks and avoid a cyberattack. The goal of a network operations center is to keep all of the company's connectivity up and running. This means reducing the number of hours lost due to downtime and boosting productivity in the workplace. The goal of a network operations center is different from the role of a help desk, which focuses on end-user issues and interaction. While NOCs and SOCs sometimes interact with each other, their responsibilities are distinct. For instance, NOCs monitor and maintain a client's or organization's network environment, while SOCs focus on tracking vulnerabilities. They also differ in their abilities to handle threats like phishing or DDoS attacks.
Troubleshooting
In a world of competition, vulnerabilities, natural calamities, and relentless cyber attacks, a Network Operations Center (NOC) is like a human set of reflexes and senses. This bundle of synapses keeps the business constantly functioning in hypervigilance and threat detection, acting quickly to avert or conquer risk. Effective troubleshooting minimizes costly downtime. It's essential to diagnose the problem and find a solution accurately. This can be achieved through elimination, trial, error, or a maintenance checklist. A checklist helps standardize the troubleshooting approach and makes it more reliable. Maintenance platforms like Limble make it easy to create and share these checklists with the team so everyone is on the same page. A real NOC is a centralized location where 24/7 monitoring and management of technology services and infrastructure occurs. It is often managed by the MSP that provides the managed service but can also be in-house. NOCs can also provide SOC functionality by detecting and responding to security threats. They can also take the burden of network monitoring off in-house IT departments, freeing them up for more business-critical tasks.
Automation
Network automation refers to using electronic devices or computer software to control processes. These systems can perform repetitive and time-consuming tasks to free up human workers' time to focus on more productive work or services. Automation is a growing trend in banking, insurance, healthcare, and manufacturing. Network automation aims to increase productivity, lower costs, and make businesses more competitive. Keeping your business's networks running smoothly and efficiently requires consistent backups, and automating those processes can help to minimize downtime during crucial days like Black Friday or Cyber Monday when the last thing you want is for your customer's purchasing experience to be interrupted. The NOC often needs clarification from the help desk. However, the two are very different. The NOC is primarily responsible for maintaining the client's network environment and extensions to that infrastructure, such as remote connections, while the help desk deals with end-user issues. A NOC works with MSPs (Microsoft System Center Partners), while a help desk typically interacts directly with the client.
Integration
Using the right integrations means keeping teams connected across platforms. This allows team members to communicate with one another, attend virtual meetings, and share files from any location, which increases productivity and collaboration. It also means having the ability to monitor and manage potential security threats before hackers manipulate data. That alone can save a company a lot of money in reputational damage, fines, and penalties. The Network Operations Center, known as the NOC, is a central control room where specialized IT staffers monitor and maintain a company's IT infrastructure. This includes servers, applications, cloud, routers, circuits, UPS, environmental sensors, and security cameras. The NOC takes the burden of monitoring off in-house IT personnel, freeing them to focus on more business-critical tasks. As a result, it improves a business's overall efficiency and keeps them competitive in a world constantly roiled by competition, vulnerabilities, natural calamities, and cyber attackers. Like the human nervous system, the NOC is a complex bundle of synapses that is always looking to detect and avert danger.