5 Best Phone Tracker App Without Permission | Real Working Apps in 2022
The best phone tracker app is a smart device that you can use to track your partner's cell phone without them knowing about it. It's a simple app that you can download to your smartphone or tablet that lets you track your partner's phone without them knowing.
It works with a GPS device that you place inside your partner's phone so that you can see where they are and when they are on the phone. This is a very helpful tool if you are having trouble keeping an eye on your partner and want to know where they are.
If you want to know the truth about your child or spouse's whereabouts, you need the best Unlocked phone tracker app. In this article, we'll take a look at five of the best phone tracker apps without permission and help you choose the one that's right for you.
Best Phone Tracker App Without Permission
If you want to track your partner's phone without their knowledge, there are many apps out there that allow you to do so. Spyera, Felxispy, Mobistealth, and XNSPY are just some of the most popular ones. These apps all work with most mobile devices and network providers. They also feature unlimited geolocation requests. After you download the app, all you need to do is enter the phone number on the app's homepage and within minutes, you'll be able to find the target device's location on a map.
Also Read: convert mov to mp4 on iphone
Spyera
Spyera is a phone tracker app that tracks your target's whereabouts without obtaining their permission. This app can be installed on an Android device, and it has a free version and a paid version, both of which have a number of impressive features. It can ring the phone, lock it, take pictures of who accesses it, and track its movements. It costs about $5 for a single device, but can scale up to $11 per year.
Spyera works on both Android and iPhone devices, and its advanced tracking capabilities make it a great choice for anyone who wants to monitor a cell phone without asking for permission. It works silently in the background, and is capable of monitoring call logs, keylogger, images, and social media chats. It also works with tablets and computers, enabling you to stay undetected while keeping your cover.
FlexiSpy is another good option for cell phone monitoring. It works on both iOS and Android devices and features GPS location tracking. It can also monitor internet activities and record calls and texts. It has a feature where it can turn on the microphone remotely. It does require rooted or jailbroken devices, but the app does come with pre-configured cell phones. Despite the premium price, Spyera is definitely worth the money.
If you're wondering whether Spyera is the best unlocked phone tracker application without permission, it has been proven to be an excellent choice for many users. This powerful app allows you to track anyone's cell phone without the need for permission. If you're worried about privacy, Spyera is the best option. So, get Spyera now and protect yourself from unwanted calls. You won't be sorry!
Link: https://spyera.com/
XNSPY
There are several reasons to download a phone tracker app, but none of them can beat the power and flexibility of XNSPY. It works by logging phone calls made through the phone's built-in dialer, texts, and internet history. It even tracks GPS location data. It lets you monitor the movements of your spouse's smartphone or child's phone without their knowledge.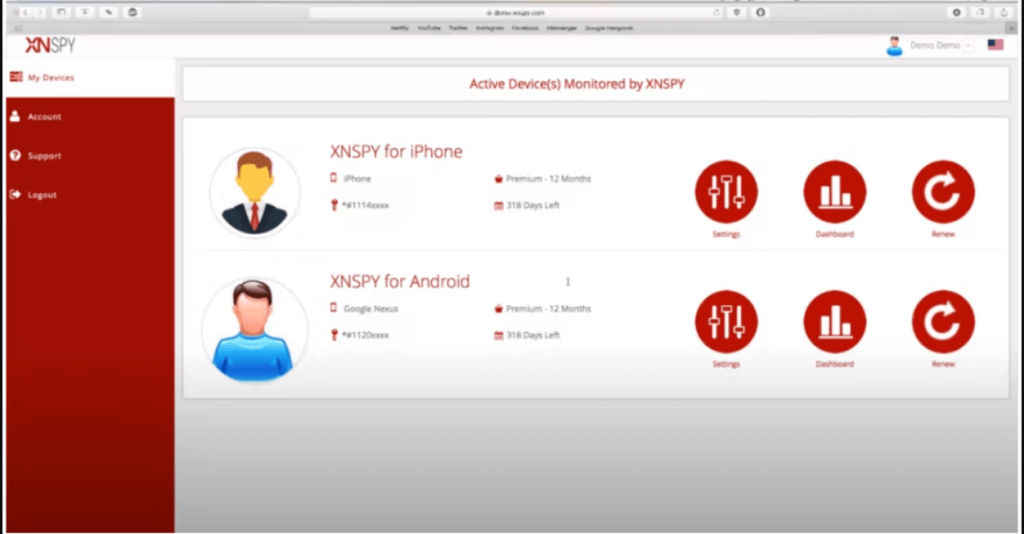 XNSPY comes with a number of features that are sure to scare your children, but it's a lot cheaper than its competitors FlexiSpy and Spyera. Moreover, you can talk to the XNSPY staff, who are available round the clock to answer any queries you may have. You can also check out their extensive knowledge base to learn more about how to use the app. mSpy is another good option, which has been frequently featured in the media. It boasts of 36 monitoring features, and it's available for Android and iOS.
Another great benefit of XNSPY is its stealth mode, which allows it to remain undetected on the target phone. It can even record phone calls and all surrounding conversations. It's developed by ClevGuard, who also developed KidsGuard Pro, which is targeted at parents and children. Despite its name, it can track almost anyone remotely. It features Android and iPhone tracking, and even includes monitoring of popular social apps.
Link: https://xnspy.com/
Felxispy
If you're in the position where you need to keep an eye on a child's or employee's phone, Flexispy may be able to help. This app works silently on the target's phone and has an easy to use control panel to monitor everything from calls to messaging apps, internet browsing history, real-time location, and keylogging. This app doesn't require any permission and works without the target's knowledge.
There are several factors to consider when choosing the best phone tracking app. First, consider why you want to track a phone and how much you're willing to pay. Second, choose the app that gives you the most value for your money. While some of these apps can be free, you'll want to make sure you're going to use them correctly. Don't be surprised if you need to upgrade or delete the app afterward.
Felxispy is compatible with iOS and Android. However, it doesn't work on all types of phones. Another drawback is its cost and instability. If you have to pay for an upgrade, you'll need to have access to the target phone. Thankfully, you can use chat or email support to solve any problems you have. The best thing about this app is that it is so affordable that even a novice user can use it.
This free phone tracker app lets you track a person's mobile phone without asking their permission. It allows you to track a phone's location in real-time, so you can keep an eye on your kids, elderly, or employee. The best thing about this app is that it works on a wide variety of devices, including iPhones. It works great on Android, too!
Link: https://www.flexispy.com/
Mobistealth
If you're trying to monitor someone's activities, you've probably heard of spying apps. The good news is that there are a number of different spy phone apps available on the market. These programs will allow you to view all of the information contained on a target's cell phone, without the person ever knowing that you're doing it.
This means that you'll be able to monitor the activities of any smartphone without any hassle. Mobistealth is a powerful phone spy app that lets you monitor someone's activity without them even knowing it.
Mobistealth records both incoming and outgoing calls, text messages, emails, and more. It also allows you to spy on social media accounts, including Facebook. Not only can you monitor your partner's social media usage, but you can also spy on their web browsing activities. This way, you can see if they're getting into trouble. This feature is also useful for monitoring a spouse's cell phone.
If you're a parent, Cocospy is an excellent choice. It can track Android or iOS devices, and stays undetectable in stealth mode. To install it on a target device, you'll need to log in to an account with the service provider. Once you have done that, you can install the application on the target device. You can also monitor other devices connected to the target device.
The Mobistealth app is a standout amongst smartphone monitoring apps. This application has an elegant interface and minimalistic theme, and it lets you monitor a target device without the owner knowing. There's no need to jailbreak or root the device. The app installs in seconds and you'll be tracking the device in no time. You can also track the device's location in real time.
Link: https://www.mobistealth.com/
uMobix
uMobix is one of the most effective phone tracker apps. Its user-friendly interface and five-minute setup process make it easy to install on a target device. It collects information from a target device and gives you instant notifications about changes in location and activity. There are some limitations with this application, however. For example, it will not work if the target device does not have an Apple ID or password. However, this problem can easily be remedied with a few simple steps.
uMobix also allows you to view call history on the target device. The app shows you all the incoming and outgoing calls as well as the missed calls. Each call has the phone number and contact information, as well as time and date of the call. You can also monitor SMS and Email conversations of the target device. uMobix syncs automatically every five minutes, which is convenient for busy parents.
uMobix supports all major browsers, and can collect all internet history on the target device. In addition, it can view the entire address book on the target device. This feature gives you access to the phone number and contact picture of the person you are monitoring. This information also includes the states the person lives in. The app records all data online, even those deleted from the target phone.
uMobix has a number of features that make it the best phone tracker app without permission. It can monitor text messages, emails, GPS location, and even social media activity. You can find out who is texting whom and when. And you can even get notifications if your target person is using social media. All this and more can help you monitor them. So, don't hesitate and download the app today!
Link: https://umobix.com/
Is it Real?
Yes, it is one hundred percent a real thing. I too at first thought of it as some scam and didn't believe that there is an app that is installed in the teen gadget that will let me know anything about the kid. That includes his or her position, who they are with, what are they up to,who are they calling or texting and how many followers they have on Instagram. Spy apps like the Cocofinder offer so much more. All you need to do is select the bundle that fulfils your needs and demands and it will do many things for you.
Do I need It?
Now the next question that comes to mind is if you need the spy app or not. Let me help you answer this question. Do you use a smart gadget? Does anyone around you use a smart gadget like a smartphone, tablet, laptop or even desktop? If yes then you are qualified to use the spy app technology. As it is a helping hand to all the smart gadget users who want to deal with all the pros and cons of excessive technology use.
How Does it Work?
All you need to do is install the app in the target gadget and it will report to you about the digital activities. One should have physical access to the device for the installation. Once installed all the monitoring can be handled remotely.
Is it Something Only Pros can Handle?
OgyMogy Freephone tracker app offers an easy user interface. That means anyone who has basic knowledge about using smart gadgets can handle it very well. There is no specific skill required to use the best phone tracker app without permission.
Is It Only Android Thing?
No, The OgyMogy spy app can be used for both mac, windows and android devices.
Who Can Use it Legally?
Parents, employers can use the spy app legally. Anyone else should get written consent or permission from the involved party.
Is Installation Time Taking Process?
The installation normally takes 5-7 minutes depending upon the user end model.
Can I Install In Encrypted Device?
No, the target device must not be password encrypted at the time of installation.
I hope I have covered most of the basic and common questions regarding an app. In case you want to know more about this tool and technology then you can visit OgyMogy.com for more details. Using the best phone tracker app without permission is legal only when you follow the rules and regulations and obey the terms and conditions of the app.
OgyMogy will show no mercy and will cooperate with the law enforcement agencies in case of any illegal use of the app. Keep in mind that usage of spy apps other than parental control and employee monitoring needs third-party consent and permission.