Is it Better to Learn Guitar Lessons Online or In-Person?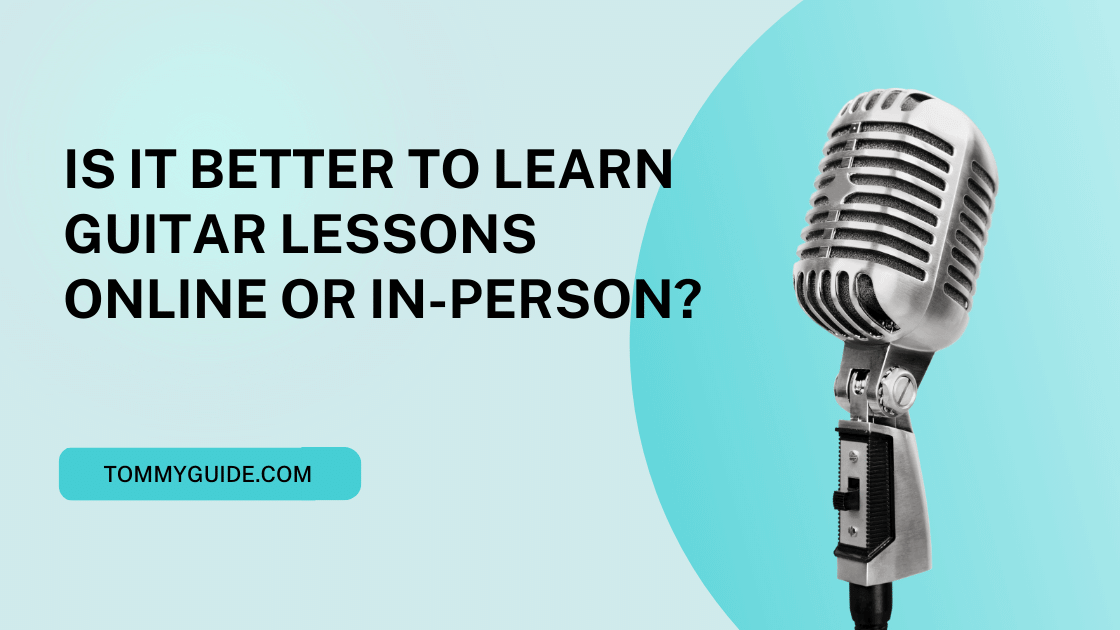 The guitar is a beautiful instrument that allows a person to express their creativity and more. It allows the emotion and intent of the guitarist to flow right through their music. Additionally, the guitar is an instrument that is easily accessible for beginners. You can write your songs once you learn just a few easy chords. Whether you are interested in learning electric, bass, or acoustic guitar, you need to start off with some type of instruction. There are many options available to learn guitar, and you can choose to take online guitar lessons or in-person lessons.
Pros & Cons of Online Guitar Lessons
Virtual guitar lessons are an alternative to in-person lessons. They are conducted via video calls where you have the ability to communicate with your teacher in real-time without having to leave your home.
Pros:
These lessons are perfect for students who have tight schedules or mobility issues including busy kids, etc.
As you begin to progress at your own pace, you can gain a lot of assistance right at your fingertips.
You have a bigger selection of teachers to choose from, even ones that are outside your geographic area.
This option is usually more affordable than in-person lessons.
Cons:
Software and internet connections may not always be reliable for you.
It can become challenging to learn the guitar online when your only model is a reverse image of what you are really trying to play.
It may be hard to catch small mistakes when your teacher is not physically there with you.
The bottom line is that virtual guitar lessons, from places such as Forbes Music Company, are by far a great way to learn guitar online. You cannot receive personalized feedback from instructional articles and YouTube videos such as what you will receive from an online teacher. The more lessons you take, the more natural it will begin to feel to learn to place the guitar remotely. You will quickly adapt to things such as the reverse image, and more.
In-Person Lessons
In-person lessons are also known as private lessons, and they allow the teacher to focus on you, your interests, and the progress you are making.
Pros:
Since your teacher is a professional, he or she can bring all the benefits of years of practice they have to you.
All of their tricks and technical skills will be right at your disposal.
You can set your own pace and choose between various methods, styles, notation, and the songs you would like to play.
Homework and regular lessons will help keep you motivated on and on track.
You will receive complete education, and you will learn the skills to help you become talented.
Cons:
Private or in-person lessons are generally more expensive than virtual lessons.
You will need to find an instructor in your area who has a similar schedule as yours.
If you are searching for the best way to play guitar, nothing beats learning than private lessons. You will receive a personalized lesson plan from your teacher that will help you reach your full potential. Those who are serious about learning to play guitar should seek the assistance of a professional teacher, whether they are in-person or online.
No matter if you choose to take online guitar lessons online or in person, you can count on a rewarding experience learning to play the guitar. Remember that you should have fun and take pride in the accomplishments that you make. The best way to learn the guitar depends on your learning style and goals.